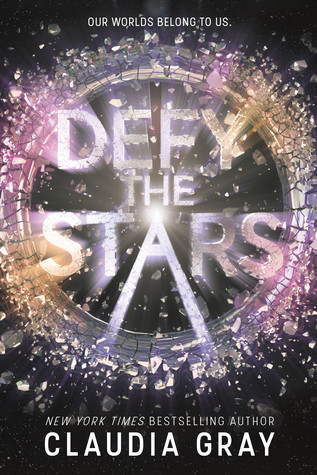 Defy the Stars by Claudia Gray
(Defy the Stars #1)
Published: April 4th, 2017 by Little, Brown Books for Young Readers
Genres: Young adult, science fiction, speculative fiction, space opera
Trigger Warnings: depictions of war, death, emotional manipulation/abuse
Pages: 512 pgs.
***I received a copy of this book free from the publisher and NetGalley in exchange for my honest review.***
---
Synopsis:
Noemi Vidal is a teen soldier from the planet Genesis, once a colony of Earth that's now at war for its independence. The humans of Genesis have fought Earth's robotic "mech" armies for decades with no end in sight.
After a surprise attack, Noemi finds herself stranded in space on an abandoned ship where she meets Abel, the most sophisticated mech prototype ever made. One who should be her enemy. But Abel's programming forces him to obey Noemi as his commander, which means he has to help her save Genesis–even though her plan to win the war will kill him.
Together they embark on a daring voyage through the galaxy. Before long, Noemi begins to realize Abel may be more than a machine, and, for his part, Abel's devotion to Noemi is no longer just a matter of programming.
---
Review:
With the recent discovery of several Earth-like planets, the following question within the scientific community has arisen: can we colonize them in the event that Earth starts to become completely inhabitable? In her most recent space opera, Defy the Stars, Claudia Gray creates her own vision of what this future could possibly look like. Despite not previously being the biggest fan of space-based science fiction, it's Gray's multi-faceted, fully-realized characters and world that made it so easy for me to get lost within the pages. It's an unexpected, gripping delight from start to finish.
Taking place in a distant future in which Earth has colonized four other planets in various galaxies, Defy the Stars explores topics of religion, artificial intelligence, and the dangers of imperialism/colonialism. Noemi Vidal is a young soldier from the planet Genesis getting ready to partake in the Masada Run: a kamikaze-type mission her leaders plan to set into motion. When things go awry during the rehearsal, Noemi finds herself veering off course and discovers an abandoned Earthling ship — which might just house the thing that could save her home planet. After partnering with an unlikely ally, Noemi embarks on a journey across the universe to destroy the link between Genesis and Earth.
It is exceedingly rare for me to encounter a book that makes me revisit my thoughts on an entire genre of fiction. Usually, I try to stay within my comfort zone of paranormal romances, feminist literature, and fantasy books. However, when I saw the cover to Defy the Stars in my inbox from Netgalley, I immediately knew that I had to get my hands on it — just to get a taste of what space operas are like. Let me tell y'all: my reading world has dramatically changed. #thanksclaudiagray
What gripped me the most about Defy the Stars is how completely immersive and full Gray made this universe. Despite there being layers upon layers of colonial history between Earth and the rest of the loop, there was never a moment in which I felt that there were questions that went unanswered. Advances in technology, historical events, and important figures were all explained in a way that made sense within the context of this world. This is an area in which the science fiction authors that I've read in the past have been extremely lacking (*coughveronicarothcough*), so I'm glad that Gray has made everything explicitly clear.
Furthermore, characters are obviously the most important part of any story and world, and I can't gush enough about our main characters, Noemi and Abel. Noemi has quickly become one of my favorite YA heroines with her nuanced character growth throughout the course of her journey in the stars. Without spoiling, I really enjoyed Noemi's transformation from a devoted soldier of Genesis to someone with their own thoughts, feelings, and opinions on the intergalactic conflict. Abel's path to self-discovery, too, is just so completely heartbreaking. I never thought that I would care so much about an artificially intelligent entity. His progression, as well, is such a delight to read through; he's probably the best AI that I've encountered in any entertainment medium.
Best of all, this book is diverse. as. hell. Noemi herself is of Chilean descent and nearly every other character — apart from Abel and his creator, Burton Mansfield — is a character of color. There are no overtly queer colors, which sucks, but there are a wide range of religions represented amongst the scientific-based backdrop.
A few comments about the length of the book: yes, it's over 500 pages. Yes, it's going to deter a lot of readers who prefer books 300 pages or less. However, if you're one of those who prefer shorter books, I absolutely implore you to pick up Defy the Stars, despite the length. The plot pacing in this novel is spot-on and action packed as the characters hop from planet to planet. Furthermore, Gray swaps perspective between Noemi and Abel in each chapter, which helps to speed it up further.
If it's not clear, I absolutely recommend Defy the Stars to everyone. Like…everyone. For science fiction fans, you're gonna love it. For folks who aren't science fiction fans (yet), I recommend it. Wow, I absolutely sound like a broken record but, for real, this book has made me a sci-fi convert. It's hella.
---
Amazing Pug Scale: