It's that time of the week again where we ask the lovely blog owner: WHATCHA READIN'? In this weekly segment, I give a brief glimpse into the books that are currently occupying my spare time, as well as a little recap of the past seven days, overall.
So, Amber, whatcha readin'?
#Sorrynotsorry for skipping last week's update: I, unfortunately, succumbed to an awful late-winter flu. It was the absolute worst. However, I did use the time away from my computer (and work…and social life) to get quite a bit of reading done, as well as lay the groundwork for breezing through two more books! AND I got a few more graphic novels that I need to try to read this week/weekend for an extra Goodreads boost toward my goal of 60 books in 2017! Futhermore, I'm already close to finished on one of the books I started last week — my first book for Xpresso Book Tours since coming back from hiatus! Hooray! Also, fun fact, I saw a real-life copy of Gilded Cage in a local bookstore over the weekend, which made me get some sense of pride for having been an early reviewer of the book.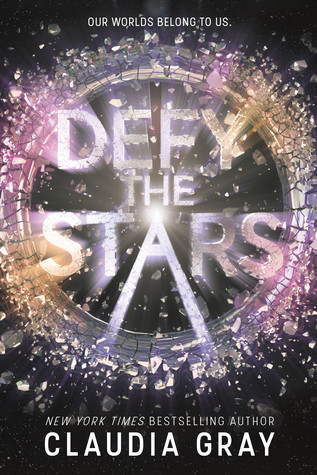 It took a month, but I finally completed Defy the Stars over the weekend. Wow wow wow, what an ending on this one. While I'm still a little blindsided with how quickly everything was resolved at the end of all of the action, I can easily say that this book has totally turned me on to reading more space operas like this one in the future. Furthermore, the book isn't even published until April 4th, so I'm hoping I can sit down this weekend to write my review and release it on the Book Birthday! It's always great to read a book that's out of my usual genre comfort zone and be pleasantly surprised at how it can change my perception of a whole group of stories I'd otherwise overlook. I'm so pleased with this book and I hope y'all pick it up on the 4th when it comes out.
As mentioned previously, I read Me Before You to help pull myself out of a depressive period, only to pick up After You this year after another depressive period. (Yay, chronic major depression!) However, reading Louisa gradually come to terms with losing Will, striking it out on her own, and learning to love again. One of my favorite things about Jojo Moyes' writing is that her characters get involved in some pretty extraordinary circumstances, but the characters themselves — Louisa, Treena, Lily, Sam, the Traynors, Mrs. & Mr. Clark — feel like they could step off the page as fully-realized people. This approach makes it such an enjoyable trip through the course of the story — and lends itself to being the perfect bubble bath time read.
I, more or less, picked up Husbands on a whim at my favorite comic book shop, when I was told that I could get a discount on my purchase if I got the book and attended Queer Book Club the following week. Hell yeah, I'll take it. QBC took place on Saturday, the 24th, so while I've already analyzed and scrutinized this book and back with my fellow queer peers, I'm probably going to write a mini-review about it to go up this weekend or so. Husbands follows Cheeks and Brady, a newlywed couple who got drunkenly married in Vegas after 6 weeks of dating, as they travel through various dimensions to learn more about themselves as a couple. It's cute, it's fluffy — and it doesn't need to be anything more than that.
 Alas, my most recent project! After the heaviness of both Defy the Stars and After You, getting to The Truth About Happily Ever After is a nice palate cleanser to get into the groove of some cute, predictable contemporary romance — just in time for my anniversary with my partner. This follows Alyssa, a Cinderella face character for Enchanted Enterprises, as she navigates her second summer at the Enchanted Dominion. Up until this point, her life has been nothing short of a fairy tale — but now she has to start working to juggle life with and without the tiara. Romance bursts, tempers flare, and wigs get stuck with lollipops by bratty children, but Alyssa can handle the stress. It's what princesses do, right?
---
So, whatcha readin' this week? Any interesting updates or books you want to start soon? Let's chat in the comments below!