Without further ado, here goes Day One for Bout of Books 17! It's weird posting the challenge so late in the day, as the last time I participated in this readathon, I generally was posting in the morning before I went to work. With the change in work schedule, it looks like this won't be the case any longer! It's exciting to see what the organizers of this even have in store for us this week with all of the challenges.
Oh wait, a perfect segue!
Today's challenge comes to us straight from Lori of Writing My Own Fairytale: the Book to Movie Challenge. Basically, it's up to us bloggers to take a book, write a screenplay, gather up actors, and then direct our own adaptations by tomorrow. Except not. Lori has requested this of today's participants:
It's super easy. All I need you to do is share with us your favorite book-to-movie adaptation and your least favorite book-to-movie adaptation. You can give reasons for your answers or just names, it's really up to you how much you share.
Yeah, much easier than I had first anticipated.
My favorite Book-to-Movie Adaptation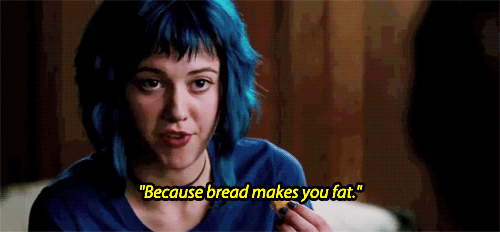 Scott Pilgrim vs. the World
Is it your typical idea of what a "book-to-movie adaptation" calls to mind? No, not really, because the source material is a series of graphic novels by Bryan Lee O'Malley. However, this is not only one of my favorite book adaptations, but it's also probably one of my favorite movies of all time. I can — and have already — watch this movie over and over again without the closest inkling of becoming bored with the story. Not only that, but the adaptation is an almost panel-by-panel recreation of the original graphic novels, which I absolutely adore. It may have not been the most popular movie when it was released, but who cares when it's such a great work?
My least favorite Book-to-Movie Adaptation

Inkheart
Speaking of adaptations that bombed, let's briefly turn our attention to my least favorite bookish movie: Inkheart. When I heard that this book was set to be turned into a movie, the tiny 12-year-old Amber lurking deep within me squealed with delight. This was one of my favorite books growing up, so much so that the spine fell apart from over-use. However, when it actually came to fruition, I just remember feeling so dejected after the credits started to roll. I actually apologized to my date for dragging him along to see it. Furthermore, before this challenge, I really forgot that this movie was a thing. If that's not an indicator of how little I care about this movie, I don't know what is.
---
How are you doing so far in Bout of Books? What two movies immediately sprang to mind when you performed this challenge? Let's chat!