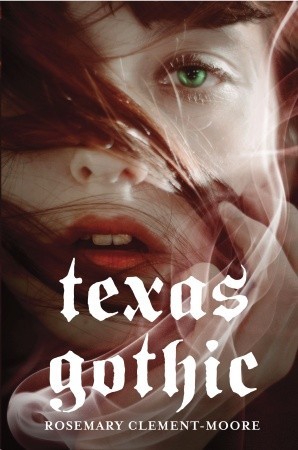 Texas Gothic by Rosemary Clement-Moore
Published: July 12th, 2011 by Delacorte Books for Young Readers
Genres: Paranormal romance, mystery, young adult
Trigger Warnings: Some light violence
Pages: 416 pgs.
Goodreads
2016 Book Challenges:
Popsugar Reading Challenge – A book that takes place in summer
Synopsis (from Goodreads):
Amy Goodnight knows that the world isn't as simple as it seems—she grew up surrounded by household spells and benevolent ghosts. But she also understands that "normal" doesn't mix with magic, and she's worked hard to build a wall between the two worlds. Not only to protect any hope of ever having a normal life.
Ranch-sitting for her aunt in Texas should be exactly that. Good old ordinary, uneventful hard work. Only, Amy and her sister, Phin, aren't alone. There's someone in the house with them—and it's not the living, breathing, amazingly hot cowboy from the ranch next door.
It's a ghost, and it's more powerful than the Goodnights and all their protective spells combined. It wants something from Amy, and none of her carefully built defenses can hold it back.
This is the summer when the wall between Amy's worlds is going to come crashing down.
Review:
Something wicked this way comes in the rolling hills of Texas — and it certainly isn't the ever-looming threat of Rick Perry attempting another presidential run. In her first book following the intriguing Goodnight family, Rosemary Clement-Moore explores the divide between magical and mundane in a seemingly normal community. While there were definitely some times in which I felt that Texas Gothic was a modern, witchy version of Nancy Drew, I ultimately found myself swept up in the ghostly mystery of the Goodnight and McCulloch Farms.
Taking place over the first weeks of blazing Texas summer, Texas Gothic follows sisters Amaryllis and Delphinium Goodnight as they take care of their aunt's farm while she's away on vacation. Despite her upbringing, Amy's not as keen to cling to her family's gifts like her sister Phin. However, creepy comes with the Goodnight territory — literally. One night, a spectral visitor ravages Amy's room, coinciding with a series of mysterious attacks on farm hands at the neighboring McCullouch ranch. Suddenly, Amy's world turns upside down as she's thrust into the mystery of the Mad Monk and finding out that maybe the supernatural is more normal than she once thought.
I'm going to admit that I had something else entirely in mind when I was starting Texas Gothic, expecting more of your standard witchy tale of casting spells and keeping magic on the down-low. However, I was pleasantly surprised with the originality of the plot. Granted, there were times in which it felt like a new and improved version of Nancy Drew, but that's something I can touch on in a second. It was interesting to see how the mundane and magical worlds mashed up together in some place as so rigidly "normal" as rural Texas. I really enjoy what she's trying to do to almost reinvent the usual teenage witch format by making them a natural part of society within the town.
Furthermore, Clement-Moore's writing is just so utterly captivating. Her turns of phrase in some instances are clever, often coming out of left field. One particular sentence that stood out to me was the book's second sentence: "I hadn't even known goats could climb trees." Similar witticisms are sprinkled throughout, making the reading experience that much better. Furthermore, the story is packed with intense, suspenseful moments, especially as Amy and company get more entwined within the Mad Monk mystery. Clement-Moore makes it easy to feel the chill down Amy's spine whenever her ghost comes to visit, to sense the dread sinking in as certain spoiler plot-points are revealed, to smell the stale weed off of certain residents of the town. It truly becomes a multi-sensory experience at some points.
However, going back to the Nancy Drew criticism is interesting because there were points in which the book almost felt self-aware: as Amy and Phin become more involved in getting to the bottom of these attacks, some characters start calling them Nancy Drews. There's even internal monologue from Amy calling out the improbability of Nancy's experiences…then the same exact things end up happening to her. In a few points, Amy's bashed over the head by blunt objects and knocked out while she's "meddling," and then later kidnapped by said people that knocked her out. I don't know if Clement-Moore was deliberately being ironic, but, if so, the irony should have been made more clear.
Additionally, I had some issues with the relationship between Amy and Ben McCullough. I absolutely abhor insta-love, but if there's one thing I hate more than that is insta-hate that obviously has no way to go but to become insta-love. From almost the very moment they met, Amy and Ben hate each other and can't even really stand the other's presence. I think the dynamic between them throughout the book could have been far more interesting if they continued to hate each other; Amy certainly had her own reasons to discover the truth behind the Mad Monk beyond helping the hunky cowboy next door. However, after being irritated by the other person's mere existence for a few days, the two are suddenly making out in his truck while out one night on a ghost watch. It was such a strange turn of the corner that I'm still kind of reeling from it.
Overall, the originality and refreshing approach to the paranormal genre makes Texas Gothic an fun, suspenseful romp through the Texas hills. It's a great, well-written blend between a ghost story and witchcraft that is bound to please steadfast fans of both types of characters. However, one has to be willing to stomach some heavy-handed parallels with Nancy Drew and incorporation of insta-love if they're going to read this book.
Amazing Pug Scale: