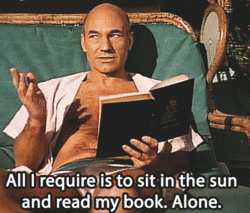 Be prepared for a deluge of challenge posts in the next few days because 2016 is literally only NINE DAYS AWAY. Once I joined the book blogging community, I quickly became acquainted with the Popsugar Reading Challenge, but realized that it was far too late in the year to even attempt to tackle that list. However, with a new year comes a full 366 (because 2016 is a leap year, y'all) days to read some goddamn books. What does Popsugar have in store for us this year? Take a look over the list below.
DesA book based on a Fairy Tale
A National Book Award winner
A YA bestseller
A book you haven't read since high school
A book set in your home state
A book translated to English
A romance set in the future
A book set in Europe  Descended by Rose Devereux
A book that's under 150 pages
A New York Times bestseller
A book that's becoming a movie this year
A book recommended by someone you just met
A self-improvement book
A book you can finish in a day
A book written by a celebrity
A political memoir
A book that's at least 100 years older than you
A book that's more than 600 pages
A book from Oprah's Book Club
A science fiction novel
A graphic novel
A book published in 2016 A Hold on Me – Pat Esden
A book with a protagonist with your occupation
A book that takes place during Summer – Texas Gothic by Rosemary Clement-Moore
A book and its prequel
A murder mystery
A book written by a comedian
A dystopian novel – Soulless by Jacinta Maree
A book with a blue cover
A book of poetry
The first book you see in a bookstore
A classic from the 20th century
A book from the library
An autobiography
A book about a road trip
A book about a culture you're unfamiliar with
A satirical book
A book that takes place on an island
A book that's guaranteed to bring you joy
While there are definitely some spots in this list that will be difficult to fill — a book with a protagonist with your occupation? what books are about insurance agents? — I'm excited for the wide range of books that I'll be reading over 2016. I'm definitely already plotting for some of these, not that I really need an excuse to read anything, but it's always nice to get that sense of accomplishment.
How do you feel about Popsugar's challenge this year? Are you already plotting? How have you done in years past?