**I was given a copy of this book from the author, Damian Wampler, in exchange for an honest review.**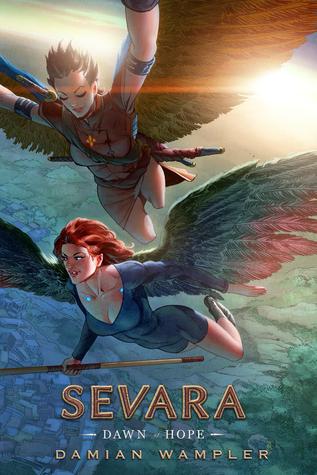 Sevara: Dawn of Hope by Damian Wampler
Published: July 1st, 2015 by Createspace
Genres: Young adult, fantasy, dystopian
Trigger Warnings: extreme gore, death, violence, suicide, war
Pages: 274 pgs.
Goodreads
Synopsis (from Goodreads):
When fifteen-year-old Sevara refuses to marry, she's kicked out of her orphanage and left on the streets of Plexus with nothing. She doesn't last long on the outside. Luckily, someone has been watching her.
A shapeshifting immortal gives Sevara a second chance at life, and a powerful set of gifts. But when Sevara begins a doomed love affair with the man she could have married, she must choose between protecting the city and saving the only man she's ever loved.
This is the beginning of a fantasy adventure that will span hundreds of lifetimes.
With a strong female lead, this coming of age adventure is a haunting and heart-pounding thrill-ride.
Review:
Given my affinity for all that could be empowering for young girls, I immediately latched onto Sevara: Dawn of Hope when I saw it posted on Goodreads, as the author was asking for reviews. It almost felt too good to be true: it's a fantasy novel set in a future akin to The Handmaid's Tale, rebellion against an oppressive government, and that gorgeous cover art! How could it be anything other than absolutely amazing? This was actually the first physical ARC I received from an author, so I was really quite excited to get started on it. Even though I did like the basic ideas of overthrowing an overall misogynistic status quo and keeping true to one's convictions, I ultimately found myself turned off by the repeated instances of unexplained time skips, the needless exposition, and overall density of the prose. I don't want to say it was an overall disappointing book, but I definitely feel kind of let down.
Taking place hundreds of years in the future, Sevara: Dawn of Hope follows the titular character as she navigates young adulthood in the city-state of Plexus. According to Plexian tradition, baby girls are delivered to orphanages at birth where they stay until they are purchased as wives by the young men of the city. The older a girl gets, the less likely they are to be married off and become fully integrated into society. It's this exact situation in which Sevara finds herself entangled once she reaches child-bearing age. Having failed to find a husband during her time in the orphanage, she's cast off into the streets; however, within her first few hours out on her own, she halts the public execution of a political prisoner and thus incites a riot that changes the route of the city's traditions. After being tried as a traitor, Sevara is given the opportunity to prove her loyalty to the government and its system of laws — the Codex — through participating in its long-time war with the neighboring Chinnai. With the help of her resourcefulness and the one boy that showed interest in purchasing her, Sevara shows that she's worth more than any auction could have brought.
If there's one thing that Sevara: Dawn of Hope absolutely did deliver on, it was its message of promoting equality across the board: gender equality, financial equality, racial equality, and more. In terms of attention to most facets of intersectionality, Wampler really nailed it. There were a few instances of shutting down arguments of straw feminism that manifested itself in the form of The Red Fist, a fringe group that popped up after the initial rebellion, which was really nice; I liked that Wampler really took a stand to show what true feminism and equality is about. I also liked the overarching themes of redemption that can be found throughout, as well. Sevara and Lief — the Minister's son and Sevara's kind-of romantic interest — go through hell and back in the war zone, but they prove themselves to be forces of good despite the overwhelming negativity heading their way. Lief, especially, was up to some heinous things before he joined the front, so it was nice to see him get redeemed near the end. Out of the majority of the characters, he had the most satisfying development arc from an arrogant little prick into a weathered, yet brilliant war hero. Additionally, I liked the level of detail laced through the story, especially when establishing the setting of a scene. I was able to picture myself right there in the midst of the action and see every minute piece of the story, hear the natural sounds, smell the atmosphere. It truly was an immersive experience, which is hard to achieve for a newer writer.
However, I cannot just breeze past the aspects of the story that irritated me most. While the attention to detail was definitely a strength in most regards, I feel like Wampler could have held off a lot on detailing the menagerie of gruesome deaths present in the story. Every few pages or so, there would be at least one character that ended up suffering from a horrific fate: meat hook through the torso, being shredded and liquefied by a landmine, stabbed directly in the neck by a short sword — and these are some of the more tame deaths! It definitely crossed the line so far into straight-up gratuitous violence at some points to where I just had to put the book down and look at puppy videos on Youtube as a chaser. Furthermore, it didn't help that the book was denser than the average fruitcake. Even though the page count was a svelte 274 pages, had the book been printed with an average font size, it could have easily been about as thick as the average Harry Potter book. There were many, many paragraphs in this book that, despite the single-spacing and narrow margins, still took up roughly a third of the page. I wish this were an exaggeration. It wasn't even like these dense paragraphs were filled with information that was integral moving the plot along; a lot of them were just plain navel gazing from the perspective of irrelevant characters, or repetition of ideas and plot points that have been discussed time and time again. On top of all of that, there were actually three or four complex plot lines that flowed through the book, which made it hard to follow the action. It definitely didn't help that the book was split up into three large parts, but no natural pause or chapter breaks. Scene changes were announced with the appearances of three stars and often included an arbitrary time skip. Apparently something like two years passed from the beginning of the story to the end? It's almost impossible to tell because of all of the unexplained skips through time and location.
When it was all said and done, I honestly just felt relieved that I didn't have to go through Olympic-level mental gymnastic routines anymore. Sevara: Dawn of Hope was really just exhausting. Even though it was rooted in some positive politics and had some other redeeming qualities through satisfying character development, there were just so many things that could have been handled better. Some truly unexpected dark, harrowing things lurk within the joyous, shining cover that left a lot of cognitive dissonance. Additionally, there were points where it really felt like Wampler was writing to fill up spaces that truly didn't need filling. The author mentioned in a hand-written note inside the cover that this was a version that had yet to meet an editor; maybe once it goes through the hands of an editor, I'll be willing to revisit this book. For right now, though, I'm going to go cleanse my palate with the cutest puppy videos I can find.
Amazing Pug Scale: