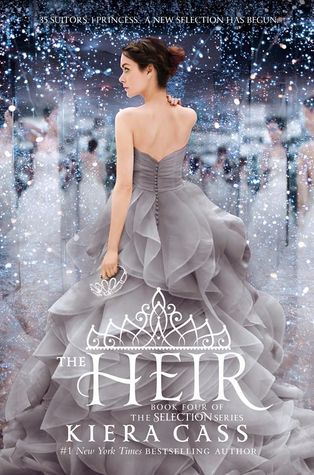 The Heir by Kiera Cass
Published: May 5th, 2015 by Harper Teen
Genres: Young adult, romance, dystopia
Trigger Warnings: Violence, attempted assault
Pages: 346 pgs.
Goodreads
Synopsis (from Goodreads):
Twenty years ago, America Singer entered the Selection and won Prince Maxon's heart. Now the time has come for Princess Eadlyn to hold a Selection of her own. Eadlyn doesn't expect her Selection to be anything like her parents' fairy-tale love story. But as the competition begins, she may discover that finding her own happily ever after isn't as impossible as she always thought.
Review:
It wasn't that long ago when I found myself utterly captivated by the first three books in Kiera Cass' Selection series; in fact, I read the series over the course of four days and fell head over heels in love with America and Maxon's story. Friends who had read the books said that it was a fascinating blend of The Hunger Games and The Bachelor, to which the comparison still rings true. However, imagine my excitement when I learned the story continued through a fourth book in the series following the new King and Queen's daughter. After all, with my partner and I only being able to visit one another once very few months or so, I knew fluffy romantic books like these would be ideal for keeping me satiated until our next extended visit. Although The Heir definitely can be starkly different from its predecessors, I'm pleased to see that the swoon-worthy elements are still there.
With The Selection focusing entirely on America's perspective duking it out for Prince Maxon's heart in his own selection, The Heir follows Eadlyn, their oldest child and only daughter, navigating her way through the process. However, since her parents re-wrote the laws of Illea allowing the oldest child of any gender to take the throne, Eadlyn is on the lookout for her own Prince Consort. Unfortunately for her, though, his go around wasn't exactly her own idea; there's political unrest bubbling up among the citizenry of Illea and King Maxon is hoping that shoving his daughter into a Selection will distract the populace enough for him to concoct a plan to keep revolts at bay. Because of her position as, essentially, pawn in her dad's plan, Eadlyn vows to herself that she's not going to fall in love with any of the thirty-five Selected, determined to prove that she's capable of controlling her own life and destiny. But some of the suitors are starting to win her over a little bit, and there's nothing wrong with playing games of the heart, is there?
Let's be real, everyone got the feeling that Cass was having far too much fun with the idea of Selections; there was no way that she couldn't possibly do a Selection with a female host. I'm so glad that she didn't let her readers down, because The Heir was a fun little romp from the perspective of someone actually having to weed out a potential partner out of thirty-five suitors. I was a little nervous going into this because, as demonstrated through the first three books, Cass can write female characters for days; how would she fare writing boys? I was pleased to discover that she actually created a menagerie of men that didn't all fall under the stereotype of "dashing, sexy, muscular dude" that so often is featured during young adult novels. I'm particularly fond of Swendish import Henri, who is bashful, kind, earnest, and a straight-up wizard in the kitchen. Actually, all of the main characters are fully realized, fleshed-out characters with their own motivations and desires. It's easy to see America's rebellious streak running through Eadlyn, even though it's manifested itself in a different way. As always, the descriptions of the royal couture are absolutely amazing and makes me want to have Eadlyn's wardrobe.
One of the things that made the original three books stand out were the intermittent attacks on the palace by the Northern and Southern Rebels, which gave it the Hunger Games feel that I so thoroughly enjoyed. While there was an undercurrent of unrest bubbling beneath the surface of the book, it never really came to the forefront of the plot except when Maxon would stress to Eadlyn that she needed to do some kind of stunt with the Selected to dazzle the public. This book is missing that sense of urgency and danger that underlined the originals and made them so addicting. Furthermore, I kind of waffled between whether or not I actually liked Eadlyn; while I admired her for sticking to her guns about representing herself and not putting on some kind of front, she did often come off as abrasive and stuck up, due to her sheltered upbringing.For example, I especially did not like her barrage of little underhanded comments toward her maid Neena, as if she were some how less important if she were to do anything other than be Eadlyn's personal maid. How am I supposed to root for the protagonist's happiness if she pulls shit like that?
While definitely not as dazzling as the original trilogy in the series, The Heir did provide a nice breather in between books with more serious, daunting subject matter. Ultimately, it further serves to prove that this series is entirely brain candy: something I can visit when I'm looking purely for entertainment, not biting commentary on the world around us. While Cass' characters are fun to read and filled with dazzling detail, I just don't get enough out of the plot to make it more than just a futuristic, written version of the trashy dating shows I find myself lost in on Hulu from time to time. Even though it's little in substance, however, it doesn't mean that I'm not waiting with bated breath to see how the fifth book in the series, The Crown, turns out.
Amazing Pug Scale: