It's that time of the week again where we ask the lovely blog owner: WHATCHA READIN'? In this weekly segment, I give a brief glimpse into the books that are currently occupying my spare time, as well as a little recap of the past seven days, overall.
So, Amber, whatcha readin'?
This week was mostly devoted to making sure I finished Miss Peregrine's Home for Peculiar Children on time because I was unable to renew it due to someone else putting a hold on the book. Unfortunately, some other things books had to fall to the wayside while I devoted (literally) all of my free time between Wednesday and Saturday. I finally reached the end Saturday in between calls at work. Actually, I almost made myself late to work that day because I reached the last seven pages in the morning, but didn't have time to complete said pages before I had to go on my commute. However, once it was done, I sat back and knocked out Wind Down in two sittings; I read a good chunk of it in the shower after I went to a Harvest Festival with my bestie on Sunday. (I have a rain shower, so the water is very isolated from the rest of the stall; I can sit with my back against the wall and have my feet/legs hang out underneath the shower, but not get my top half wet.) I started two more books that have been hanging out in my TBR for a while, so I'm excited to finally get around to them!
Just like Wind Down, this is another one of those books that I bring into the shower with me while I just hang out. Lora posted on Goodreads about two weeks ago asking for readers for her book and, based off of the description, I was more than happy to oblige! Outspoken follows eighteen-year-old Penny Beck as she embarks on her first cross-country journey from Montana to sleepy Wells Cove, South Carolina, a beach town just outside of Myrtle Beach. As the oldest of eight children, Penny has always felt like she had to hold her tongue and, as a result, doesn't really know how to express herself. After a disastrous break-up and a massive blow-up with her parents, Penny decides to use this trip as a method of self-exploration. Even though I just started this last night after finishing my deluge of posts (sorry not sorry), I'm already about a third of the way through. Outspoken is a quick, yet wonderful read about a girl finding her voice in spite of whatever pressures she may feel about keeping herself quiet. Additionally, as a girl originally from the Charleston, South Carolina area, I love it when books give shout-outs to the Lowcountry like the way Richardson has; she even mentioned the College of Charleston in passing, which is my mom's alma mater and where I originally wanted to go to college growing up! That's cool as hell! Penny has already proven herself to be a fun protagonist to read and I can't wait to see how she blossoms.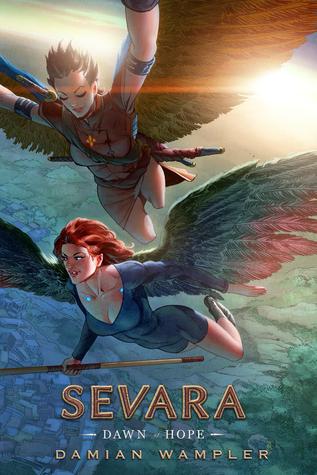 I'm really, really, REALLY excited to be starting this one; it's the first physical ARC I've received and I'm so honored to have been given a copy I can keep forever. Look at that cover art! Oh my goooooood. I feel really bad that it'd been sitting on my floor for literally a month and a half before I was able to get around to it, but since I was reading through so many different library books at the time that actually had a set deadline, on the floor it stayed. I'm not too far in this yet — only about eight pages — but I'm already gripped by the story. So far (lol because eight pages), it follows Sevara, a young girl raised in an orphanage in the city-state Plexus. Once a year, girls are auctioned off by the orphanages to be married by the men who rule society as they know it. However, after their fifteenth year, if the girl hasn't been married off, she'll be cast onto the streets as a nobody. The story picks up right at Sevara's final auction, but will she be spared fate on the streets, or fate as a servant? I DON'T KNOW BUT I'M GONNA FIND OUT.
I didn't touch Beauty and the Darkness at all this week because Miss Peregrine obviously had me on a time crunch and that was top priority.
What's your Whatcha Readin' Wednesday? Share in the comments here!