It's that time of the week again where we ask the lovely blog owner: WHATCHA READIN'? In this weekly segment, I give a brief glimpse into the books that are currently occupying my spare time, as well as a little recap of the past seven days, overall.
So, Amber, whatcha readin'?
Yet another active week over here! I wrote and posted an unprecedented three reviews over the weekend, because I really had nothing better to do the past few days but to drink, read and write. We were expecting a hurricane to hit here on Sunday so I deliberately didn't plan to do anything since I figured I'd be inside all weekend anyway, but then we got the news on Saturday afternoon that Hurricane Joaquin decided to go back into the Atlantic. But with all of the writing and reviewing I was doing on these past few days off, I didn't really leave a lot of room for chilling and reading like I had hoped, especially given that one of my books is due back at the library this coming Sunday. Whoops. I'm keeping my fingers and toes crossed that I'll have time between calls this week so that I can read more of that book because it's actually really intriguing. On top of the things I'm currently reading, I started and finished/DNF'd three books: Chasing Charli, 44 Hours or Strike!, and a third I refuse to mention by name because I don't want to be unprofessional. My mini-rant is on Twitter and Goodreads if you're interested.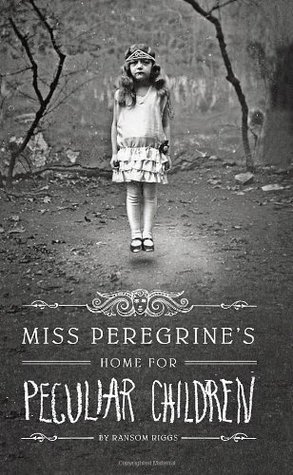 This is the one due back at the library on Sunday because it has a metric ton of people waiting for it to come to them, just like I had to wait forever and a day for it. At the present time, I'm about 95 pages into the story, which is about 27% complete according to Goodreads. So, basically, I have five days to complete the remaining 73% of this book before it's due because I can't renew it due to so many people having it on hold. The pressure is too real. Continuing from last week, Jacob becomes increasingly concerned about his grandfather after receiving a mysterious call at work from him. He immediately rushes off to his grandfather's house, only to find him bleeding out in a field behind the house; his wounds indicate an attack by some kind of wild animal. This loss sends Jacob spiraling into a deep depression and period of self-doubt, however Jacob is bequeathed a book containing a letter from the headmistress of the old children's home in Wales where Jacob's grandfather sought refuge during World War II. Hoping to learn more about the mysteries of his grandfather's stories, he goes off to Cairnholm Island with his father. Once there, however, things aren't quite as he imagined them to be. I'm really intrigued by the plot so far, because I wasn't really expecting it to start out this way; I came into the book with zero expectations other than that it was supposed to be super spooky. So far, yes, it is super spooky and I'm so pleased. There's almost this sense of dread that hangs over the book, but not in a bad way. I'm excited to see where this takes me!
Welcome to book two of A.N. Meade's vampire romance series: Beauty and the Darkness. It picks up almost immediately where the first book, Marked, left off: Liam, an archangel, has performed a ritual that was supposed to have removed a mark off of Aimee, a newly-turned vampire who's being tracked by her now-vampire husband in her first life, Damien. However, much to the chagrin of both her and her current partner, Marc, the evil vampire is still able to locate the young woman and infiltrate her dreams. Aimee takes matters into her own hands by leaving her cozy life with her lover and going to live with Damien, hoping to trick him into lifting the spell himself. Much like the previous installment, I'm a little bit confused with all of the action happening at once. There's a lot of navel contemplation going on, intermixed with random flashbacks, dreams, and sudden action that doesn't necessarily leave a simple timeline to follow. Furthermore, I really just do not understand some of the character motivations behind some of the characters' actions, despite them spending a lot of time over analyzing every single detail. However, I am reading through this faster than I did Marked, so maybe I'm subconsciously enjoying this one more than the previous book. Then again, there is a lot of random biblical preaching that makes me a little bit uncomfortable — not that religion makes me uncomfortable in general, but that it's not something I'm expecting in the middle of a vampire novel? I'm just hoping I get some clarity and answers soon.
So whatcha readin'? Let me know in the comments!