It's that time of the week again where we ask the lovely blog owner: WHATCHA READIN'? In this weekly segment, I give a brief glimpse into the books that are currently occupying my spare time, as well as a little recap of the past seven days, overall.
So, Amber, whatcha readin'?
Even more progress was made this weekend on all fronts when it came to my reading life. I finally forced myself to sit down to finish Mount of Hope so I could take the time to work on the ARC Review. Okay, I say "forced," but it was more like that I plopped myself down in my shower and let my feet soak for a while as I got swept up in the drama that was the final few chapters. Given that I only have a shower and not a tub, this is probably the closest I could get to slipping into a bubble bath to just relax. (But it's a rain shower, so I'd argue that it's a good exchange.) Additionally, I worked even further into the intrigue of The Name of the Star and even started yet another work for an upcoming blog tour — this blog's first! On top of all that, I arranged my first actual beta reading exchange for a local author. In case you haven't noticed, things are really picking up speed here in this corner of the interweb, so I'm just over the moon with excitement regarding what's to come in the next few months. One day, though, I'm gonna make some headway on Marked, but today probably is not that day.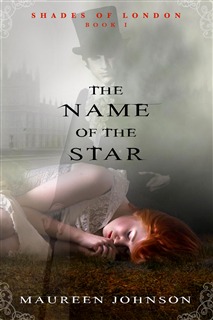 Despite call volumes continuing to be being exceedingly high last week, I managed to take a big chunk out of this book during my shifts last week. If things slow down considerably this week — fingers crossed, of course — I anticipate this will be finished by the weekend. Since the last time, a fourth murder victim has been found on the campus of Rory and Jazza's school in the East End of London, near the site of the original Ripper attacks. The students have been on a strict lockdown set by the school's administration while the police conduct their investigation behind the motives of the murderer. However, something about this fourth murder has Rory feeling somewhat off about the world around her. She starts realizing that some of the people she's seeing aren't quite visible to most others around her, with the exception of her mysterious new roommate, Bhuvani. There might be more in common with the two girls than they previously anticipated. Without giving any spoilers, I learned that a lot of my initial thoughts about particular characters and their state of being were true. That might be a bit of a downer for some people who like to be kept guessing throughout the course of reading, but if presented well enough, it feels like putting together pieces of a mystery rather than being utterly predictable. Thankfully, Johnson has definitely made The Name of the Star feel far more like the former rather than the latter. I'm about halfway through the book right now and things are already starting to get super crazy. I can't wait to see how it ends!
Taking place in modern day western Canada, Shannon Peel's Thirteen follows the immediate reactions of a border town near Vancouver after a massive terrorist attack effectively shuts down the entire city. Thrust in the middle of the confusion is Jake, a thirteen-year-old boy who just wants to be able to explore early teenagerdom and cause harmless trouble with his friend, Aiden. However, due to his youth and inexperience, he doesn't quite understand the true ramifications of this unprecedented attack. He vacillates between questioning the authority of his mother and the police and wondering exactly what he needs to do in order to protect both himself and those around him from harm. While I'm set to read this piece as a part of the upcoming blog tour, I can't help but feel mixed emotions thus far in the book. Granted, I'm really only about fifty or sixty pages into it, so the majority of the action has yet to begin, but there are just some glaring issues I have with the thoughts and decisions of the characters, as well as the writing in general. Why is there an entire chapter that's literally just dialogue and exposition? Why did the entirety of Vancouver think a bunch of random soldiers were really just actors for a movie? Why does Jake end up having a ton of random flashbacks with no real transition to and from the past? What's wrong with being an emo kid? Hopefully these are answered as I continue on, but I'll give Peel one thing at this point: at least it's fast-paced and a quick read. I got to my current point in about half an hour before bed last night, which means I can definitely get it finished before my stop on the blog tour.
So whatcha readin'? Let me know in the comments!