It's that time of the week again where we ask the lovely blog owner: WHATCHA READIN'? In this weekly segment, I give a brief glimpse into the books that are currently occupying my spare time, as well as a little recap of the past seven days, overall.
So, Amber, whatcha readin'?
I got quite a good amount of reading done over the weekend, especially with the drive to and from South Carolina for my grandmother's service. Fun Home I completed on Thursday — of course, you'll find the review for that right over here — which really helped me start the beginnings of my grieving process with my grandmother's passing. The majority of my reading time, now that I think about it, was really spent in the car, especially on the one of the e-books I'm trying to tackle so some of my currently reading pile can decrease in size a little bit. Time out of the car was really used to hang out with family and prepare for Saturday's service (or maintaining the blog, as I did on Sunday and Tuesday). However, I did start a new book this week that's moving fairly quickly, so that's always a plus! Also, I KNOW THIS IS BEING PUBLISHED ON THURSDAY but I started it on Wednesday, which means it still counts. It's my blog and I make the rules. Now, onto the books!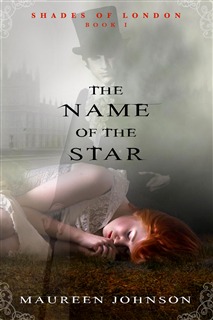 This book has been on my To-Read list since I got my Kindle Fire for Christmas back in 2011 (which I have, unfortunately, lost somewhere in my parents' house sometime between then and now due to moving back and forth to college), but I'm glad I've finally gotten around to reading it. In all honesty, I think the only reason why I even decided to pick it up all those years ago was due to my active participation in the Nerdfighter community, of which Maureen Johnson is also a member. Okay, we all have those phases in our lives that we regret, and being a resident of Nerdfighteria is something that makes me cringe when I look back on it. But I digress. The story thus far in The Name of the Star, Johnson's first installment in her Shades of London series, follows American student Rory Deveaux in her first year studying abroad in London. In the first few days after her arrival, a string of murders breaks out in the city's East End, eerily mimicking the work of Jack the Ripper. Rory and her roommate, Jazza, grow increasingly worried — and intrigued — by the resurgence of the Ripper. At the current point of the novel, we've reached September 30th, the night of the original Ripper's double murders in the late 1800's; however, after a restless night across London after the first victim is found in a car park, a second murder has yet to be reported. I'm surprised at how fluidly the story is flowing and how I really just do not want to put it down. I purposely left it in my car last night because I knew I would be up all night reading if I brought it inside. This story is not short in the slightest stretch of the imagination, coming in at almost 400 pages, but I've dedicated probably about two hours of time to it total and am already about 120 pages into it. Johnson's writing style is so easy to get swept up in with how she describes the actions and situations of her characters. I can't wait to see how it ends!
While being a total departure from The Name of the Star, I've found Mount of Hope: A Victorian Tale of Young Love to be the necessary palate cleanser I've needed over the course of the last week. Between Johnson's book and everything going on with my family, I was glad that I had this to turn to when I needed something lighthearted to take my mind off of the more pressing matters. The budding romance between Alfred Dermont and Amelia Thorwald is not exactly what it seems; despite Alfred falling head over heels with Miss Thorwald upon meeting at a party, she is still completely enamored with a past love. Amelia hatches a plan to give a final shot to pursing a relationship with her lover before she is to commit herself to matrimonial bliss with the younger Alfred. All the while, Alfred has no idea what Amelia is doing and continues to prep his upcoming wedding to the bachelorette. Jamie Michele continues to blow me away with how engrossing she's managed to make this centuries-old story. Every time I remember that this is an abridged version from a 1000+ page manuscript, I become overwhelmed with awe. It's clear that the original essence of Mrs. Trollope's characters and story is present in every word from the details Michele uses to paint the whole image. It's enough to make me, a staunch lover of contemporary fiction, reconsider reading some other Victorian-era works. Except Wurthering Heights. That was a nightmare.
I didn't touch Marked at all because I wasn't in the right frame of mind to even consider vampires. Sorry, y'all.
So, whatcha readin'? Let me know in the comments!