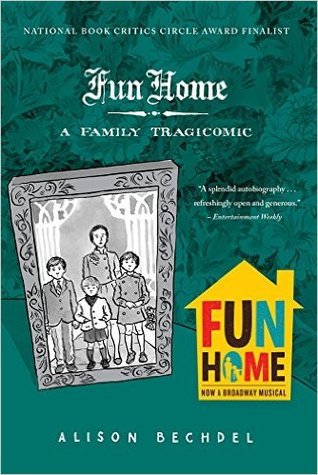 Fun Home by Alison Bechdel
Published: June 5th, 2007 by Mariner Books
Genre(s): Memoir, graphic novels, LGBT, non-fiction
Pages: 232 pgs.
Synopsis (from Goodreads):
In this graphic memoir, Alison Bechdel charts her fraught relationship with her late father.
Distant and exacting, Bruce Bechdel was an English teacher and director of the town funeral home, which Alison and her family referred to as the Fun Home. It was not until college that Alison, who had recently come out as a lesbian, discovered that her father was also gay. A few weeks after this revelation, he was dead, leaving a legacy of mystery for his daughter to resolve.
Review:
My reading this book is literally years in the making: In college (and, really, a few weeks ago), I read Alison Bechdel's follow-up memoir to this one, Are You My Mother. However, cue the surprise of everyone within my social circle who've learned that I'd yet to actually get my hands on a copy of Fun Home for my own personal devouring. None of the bookstores in my area sold it, even my favorite local comic book store that happened to be rife with graphic memoirs by other authors. However, color me surprised when I found that the public library system carried only one copy for our entire 500,000-person city. Once I found out, I immediately placed our sole copy of Fun Home on hold and I waited patiently (my partner will tell you that the patient part is a lie) for it to be my turn to have possession of the book. Once I finally got it, it honestly could not have come at a more opportune time at my life; it was available for pick up at my library the day before my grandmother passed this week. Given the book's subject matter — exploring the relationship between Bechdel and her father, especially through the lens of his death in her early 20's — I was able to resonate with each page.
There are myriad reasons why critics, readers, and professors alike have called Fun Home Bechdel's master work and reading about them only increased my excitement about finally reading this. Of course, there was a little bit of lingering doubt in my mind that maybe it was all hype, but as soon as I dove into the first page, that little voice in the back of my head was immediately silenced. On first glance, one might dismiss Bechdel's artwork as simplistic and unimpressive, but if you start really inspecting each individual panel, readers will notice just how intricate each and every illustration is, as if we were looking straight at her memory of that particular moment. She includes details that flesh out the entire scene: authors and titles on books, brands on food labels, minute little touches on clothing. One could say this attention to detail was a connection to Bruce Bechdel's meticulousness in life, as we learn right off the bat about his eye for making sure everything was in its right place. It really feels like, at points, the reader is having these memories along side Bechdel as she recalls them. Furthermore, to add an additional layer of complexity to her prose, she connects each of the seven chapters of the novel to a story that held significance between herself and her father: Icarus, The Great Gatsby, Ulysses, The Wind in the Willows — just to name a few.
Another great thing about Fun Home, perhaps due to the point mentioned previously, is Bechdel's ability to tap directly into the emotions of the reader. For example, in the sections of the story regarding the hesitation about discussing her sexuality with her parents, Bechdel's choice of words to describe her feelings in the moment paired with her illustrations create a wholly enriching experience that allows readers to feel the exact anxiety running through her mind. I found myself desperate to know how certain stressful points in her life became resolved after facing these pressing issues, even if it was something as "minor" as Bechdel attending her first meeting with her school's LGBT group. Most of the experiences she encounters throughout the course of the memoir — such as her struggles with mental illness manifesting in her youth or her exploration of her sexuality after coming to terms with her orientation in young adulthood — are extremely relatable to many readers, especially those who have personally felt the slings and arrows of these milestones. She absolutely does not hold back in her brutal honesty about these moments that have so shaped her life, especially regarding the admission of her father's sexual coercion of his teenage students. It's such frankness that truly makes a memoir so successful, as often the author is too afraid to unearth some of the dustier things hidden in the recesses in their closets.
All-in-all, this work is truly remarkable in the way that Bechdel takes the time to make sure her readers are fully immersed in the experience of this memoir. Within only 232 pages, she achieves an emotional rollercoaster through time that rivals even the most complex, gripping fiction novels. Upon further reflection of this and Are You My Mother, her second graphic memoir, it's seriously no wonder why the MacArthur Foundation chose her as one of their recipients of the MacArthur Fellowship "Genius" grant in 2014. Her command of the English language is so strong, so gripping, others can only dream to reach the heights she's achieved.
Amazing Pug Scale: