It's that time of the week again where we ask the lovely blog owner: WHATCHA READIN'? In this weekly segment, I give a brief glimpse into the books that are currently occupying my spare time, as well as a little recap of the past seven days, overall.
So, Amber, whatcha readin'?
This week, I'm working on three books, having obviously finished Eleanor and Park earlier in the week. Ironically, I finished it a few minutes after posting last week's Whatcha Readin'? post. Furthermore, I haven't had too much time to read given that A: work was back to back calls for ten and a half hours and B: I've been processing my feelings after learning of the on-air murder of my former colleague and classmate, Alison Parker, on the 26th. I'm sure you've seen her face everywhere in the news the past week or so, if you're in the US. My mind really has been elsewhere while I take the time to gather up everything in light of her passing. But now that my processing time ended, I was able to crack down and move forward on some other pieces post-Eleanor and Park.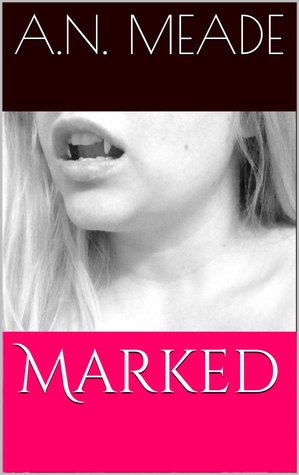 Just like last week, Marked by A.N. Meade follows Marc, an ancient vampire who's been searching high and low for his mortal soulmate, Kate, who has been eluding him for centuries by dying and becoming reincarnated. Now that he's finally caught up with her, he's managed to turn her into a vampire before she dies again. He struggles with the moral dilemma of taking away her choice to become one of the undead, all while Kate slowly becomes adjusted to life after death.
I'm going to be honest, I didn't really touch this one at all from last week. With everything that was happening in my personal life, I wasn't feeling like taking the time to sit down to make an attempt to interpret an incredibly weirdly-paced story like this one. Maybe now that I'm in a better head space, I can devote some time to getting a little bit further on in my reading during breaks at work. I just really did not feel like reading anything pertaining to death while I was struggling with someone's passing. That's reasonable, right? (If it isn't, too bad, it's my blog and I make the rules.)
Out of all of the books I've been reading this week, I've made the most headway on Mount of Hope: A Victorian Tale of Young Love; while it's not an altogether brand new work, writer Jamie Michele has taken the original Young Love manuscript by Mrs. Frances Trollope and abridged it for modern audiences. Bear in mind that this was no easy task, as the manuscript was over 1000 when completed by Trollope in the 1800's. Mount of Hope follows the aristocratic Dermont family as they guide their young son and heir, Alfred, through his first summer in the social scene of the English countryside. Alfred falls head over heels in love with one of the first women he meets — which might just end in ruin for him.
Just like Marked, this is an ARC from the author, Jamie Michele.To be completely honest, I was a little nervous about taking this one on because I wasn't entirely fond of Wurthering Heights or any of the Charles Dickens and other assorted Victorian-era novels I was tasked to read in school. But I am fond of the way that Michele has put together the story in such a way that it's entertaining for more contemporary-based readers such as myself, while still staying true to the Victorian sensibilities of the original. There are no shortage of characters throughout the course of the novel and I often find myself turning back pages in iBooks to leave a note here and there to keep up, but that's something I've learned to be indicative of works from that era. I look forward to maybe finishing this one up by the end of the week.
As seen in last week's Second Sentence Saturday, the final book that I've been reading is Rebecca Solnit's collection of essays, Men Explain Things to Me. Followers who are deep in the know of current vernacular, I'm sure, are aware of the term "mansplaining." If you've been looking for the origin of the phrase, then look no further than the titular essay. Throughout the course of this very short tome, Solnit covers a wide range of topics from international rape culture, marriage equality, the seedy underbelly of the IMF and Dominique Strauss-Kahn, and general sexism, especially in academia.
What makes me love this so much is that Solnit really does hit the nail on the head in the few essays I've read so far. Furthermore, she doesn't need to use long, flowery language like I've seen quite a few essayists venture into; she gets straight to the point with her punchy prose with passages that aim for the gut. Actually, if you follow my Goodreads, you'll see some of my comments lauding Solnit for how dead-on she is in the points she makes (because, seriously, Dominique Strauss-Kahn is the ACTUAL WORST). Furthermore, because the essays are short, I can easily read this in between calls and still feel like I've accomplished something other than getting yelled at by some random person in West Virginia.
So, whatcha readin'? Let me know in the comments!