Since the purpose of this blog is to clearly do more than just reviews, I figured it was about time that I start branching out into some regular features. (Which means there are more features on the horizon so stay posted!) I'll be focusing a little bit about my week in reading, as well as a few blurbs about the books themselves. Also pictures, lots of pictures.
So, Amber, whatcha readin?
This week, I've been switching between two books: Eleanor and Park by Rainbow Rowell and Marked by A.N. Meade. I spent five days in Washington, DC this weekend with my boyfriend as we celebrated my 24th birthday. Since it's difficult to go from one part of the city to the other by foot, we ended up taking the Metro or the bus to get from point A to point B; of course, I found myself reading to pass the time between stops — also, I tend to get a little woozy watching the lights in the tunnels zoom past, so reading helped with that, as well. Additionally, I got a nice chunk of reading in while my boyfriend slept in during the mornings. Onward!
Eleanor and Park is currently a staple of the ya world and has been since its publication back in 2012. It follows the unlikely love story of the titular characters as they navigate the blossoming age of teenagerdom in the plains of Nebraska during the Reagan years. Both come from completely opposite backgrounds but manage to try exploring their shared spark after developing a mutual interest over music and comic books, all while juggling complicated family lives. Can their love make it through these trials?
I picked this up due to its inclusion in our local library's Margin Project, where readers are encouraged to write their thoughts about the book in the margins. Trust and believe that I have scribbled quite a few thoughts in this one; I'm nearing the end, but I'm still trying to figure out whether I hate all the characters but love the story, or just flat out am frustrated by everything. I don't want to come to any conclusions just yet as I'm pretty close to the end; it might end up blowing me away.
My boyfriend and I had a lazy day on Sunday just reading through our respective interests — I'm pretty sure he was reading some article from his favorite magazine, Jacobin — while making pizza and drinking cocktails from Mamrie Hart's book, You Deserve a Drink. Also, please fawn over my amazing wit with one of my many contributions to the Margin Project. I'm pretty sure a 13-year-old is going to pick this book up after me and be like, "Who is this crazy old lady who had this before me? What are the Smiths? Who's Morrissey and why does she hate him?"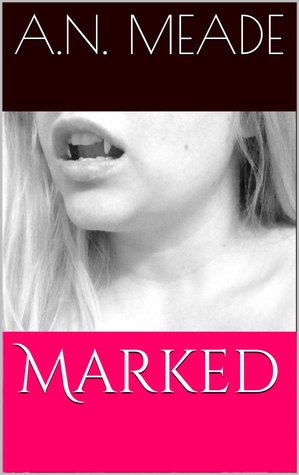 Marked is the first of a series by up and coming author A.N. Meade. The story follows Marc, an ancient vampire who has recently turned his true love, Kate, into one of the undead so that they can finally be together in eternal life. Barring the pun that can be drawn from the title and the main character (Marked — Marc? Anyone?), so far, the story deals with the internal moral struggle Marc feels about turning Kate after losing her time and time again as a mortal, all while Kate adjusts to life after death.
I was given this and the other three books in this series from Meade herself, since the fourth installment, Love and War, is available soon. Count this as a preview of things to come! Just like Eleanor and Park, I have some issues with this one, especially concerning character motivations. Additionally, I feel like the pacing is off; hours, even days roll by without a clear indication of exactly how much time has passed. There may be more potential yet, so we'll see.
So whatcha readin'? What are your preliminary thoughts on it? Any cool pictures?